Pharmaceutical terminology and definitions
Pharmaceutical terminology and definitions
Free Qsauri thesaurus
Control pharmaceutical terminology and definitions with Qsauri dictionary and thesaurus for pharmaceuticals
Regulatory affairs professionals are involved in all aspects of pharmaceutical development. Certainly, understanding and aligning the business jargon used in regulatory procedures, guidelines and communications can be challenging.
Pharmaceutical terminology and definitions are provided by Qsauri. In short, Qsauri covers more than 3300 terms and 4000 relationships. The majority of the concepts are derived from global and regional guidelines and key reference sources such as ICH, EMA, FDA and Eudralex. Subsequently, relationships are build either based on the definitions set by the reference sources or based on Qdossier's own interpretation.
The scope of Qsauri is dynamic and covers subjects in the domains of Regulatory Information Management, CMC, Pharmacovigilance, Clinical and Nonclinical Research, GxP, Document and Data Management and Electronic Submissions.
A thesaurus is a terminological control device used in translating from the natural language of documents into a more constrained 'system language'. Further, it is also a controlled and dynamic vocabulary of semantically and generically related terms which cover a specific domain of knowledge.
Qsauri covers the core English terminology used by regulatory professionals and can be a valuable aid for authors and database users managing regulatory information. For example, it helps to reduce ambiguity where a concept can be given different names and provides a definition of terms based on context of use.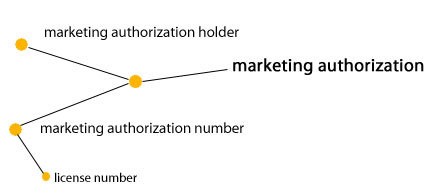 Advantages:
Provide a single overview of terminology from the most commonly used reference sources within drug regulatory affairs
Assist users when searching information systems to improve accuracy and completeness of results
Group terms together so that when you search you can see the term that you are looking for in the context of other terms in the vocabulary
Help to find the word, or words, by which a subject may be most fitly and aptly expressed
Allow drawing distinctions between similar words and assisting in choosing exactly the right term, whilst ensuring terms are mutually exclusive.
Indicate which term is to be used as the preferred term to ensure consistency
A record belonging to a single term is called a concept (unit of knowledge constructed through combining characteristics expressed in words). Each record captures information such as the reference source and definition. Qsauri covers hierarchical-, equivalence- and associative relationships between concepts.
Relationship type 'Preferred term' does not intend to indicate one term is 'better' then another term. Above all, the main purpose of establishing preferred terms is to achieve consistency in the terms used within your organization.
Hierarchical relationships allow for categorization based on many different criteria and using different semantics. To clarify, the hierarchies in Qsauri are constructed to aid searching and do not necessarily reflect formal scientific categories.
Equivalence relationships– There are two pairs of equivalence relationships that can be specified in Qsauri. Firstly, 'Abbreviation' and 'Abbreviation for' link a full term with its abbreviation, and vice versa. Secondly, the 'Used for' and 'Use' relationship type, which is used to define a Preferred term and it's associated non-preferred terms. These terms can be considered as a synonym/alias.
Hierarchical relationships– Two (reciprocal) types of hierarchical relationships are defined. A term can have a relationship with 'Broader term' or a 'Narrower term', which represent a more general concept or more specific term respectively.
Associative relationships– A term can have one or more relationships, but not hierarchically, to associated terms, expressed as '(RT) Related term'. The Qsauri intends to capture the only the most direct and significant related terms only.
Majority of terms are in direct (not inverted) format, as they would be in natural speech; for example, 'clinical research' not 'research, clinical'.
Your feedback is highly appreciated and Qdossier welcomes any suggestions for adding new terms, reference sources or other improvements. Comments on relationships and definitions used are also very much appreciated. Send your comments to info@qdossier.com
Viewing and printing the content of this website is permitted subject to the following conditions. The content of the website may be used for informational purposes only. The content of the website may not be downloaded for use in information systems without permission of Qdossier.
Disclaimer: Qdossier is pleased to provide Qsauri and strives for careful control of the information published so that the information is current, accurate, consistent and therefore reliable. Despite this continual effort Qdossier cannot guarantee that the information is always complete and up to date. Qsauri does not claim to be a complete dictionary. The relationships include associative relationship types based on the personal interpretation of Qdossier. No rights can be derived form the information in Qsauri, and Qdossier is not liable for the consequences of any deficiencies and/ or inaccuracies in the controlled vocabulary.