Viewer for eCTD, NeeS and other regulatory dossier formats
Dossplorer™ allows you to share, view and review eCTD, NeeS and other dossier formats from any region and access them from any location. Unlock and explore the true value of your regulatory dossiers in a safe and secure, web-based eCTD viewer. The hybrid cloud/ on-premise solution offers you cloud-based software as a service whilst keeping your data privately stored on-premise or virtual private cloud. Alternatively, Dossplorer™ can be installed as a full on-premise solution.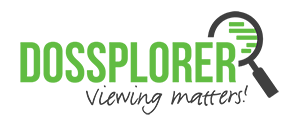 Did you know that our Dossplorer Xchange bot automates the process of making newly (re)published dossiers and sequences visible in Dossplorer? Saving you lots of back-and-forths of documents when sharing draft sequences for the review!
Learn more about Dossplorer™ eCTD Viewer
We believe that viewing matters! Do You?
Import dossiers and store submissions in your own safe document repository. Automatically enrich them with metadata to unlock the true value of your information assets. Optionally add your custom attributes by configuration only.
Gain and maintain control over your data and move from a dossier centric approach to a holistic view across products and regions. Dossplorer eCTD viewer offers unique views on regulatory activities, merged views across branches and integrated views across multiple products
Personalized navigation tree
Personalize your navigation tree utilising metadata already present in your dossiers. The tree configurator allows users to change the hierarchical organization of dossiers. View settings, expanded nodes and selected metadata are stored and available after re-login.
Dossier formats supported
Dossplorer™ is an eCTD viewer, NeeS viewer and supports viewing any file and folder structure. This allows you to import virtually any regulatory dossier, including medical device dossiers, CTA dossiers, Paediatric Investigation Plans (PIP) and Investigational Medicinal Product Dossiers (IMPD).
Collaborate and add comments to eCTD, NeeS and other dossiers. Dossplorer can be used to support your internal review workflows, eCTD life cycle management and submission publishing.
Create current and cumulative views on individual regulatory activities and merge branches (e.g. drug product, drug substance) into a single structure. This allows you to easily compare documents across different strengths, dosage forms and manufacturers.
Limit access by applying advanced node restrictions to sequences or sections within a dossier. This provides the option to restrict specific contents such as non-blinded clinical study data or confidential details about quality and manufacturing to a limited group of users.  
The automated import agent scans for new dossiers and sequences published on the connected network locations. Submissions are imported automatically upon detecting them. Dossplorer only stores references to the files and will not duplicate the physical content files.
Hybrid-cloud or full on-premise architecture
With the hybrid connection architecture the web application will be deployed in MS Azure but the users connect via VPN to the document depository on the internal network of the user. A full on premise installation is also possible.
Personalized demonstration of Dossplorer eCTD viewer?