RPA for Regulatory affairs
An example of the many opportunities where robotic process automation eases the life of RA professionals
The Dossplorer Xchange bot automates the process of making newly (re) published dossiers and sequences visible in Dossplorer and is a great example of RPA for Regulatory Affairs. Dossplorer™ is an eCTD viewer developed by Qdossier that allows you to share, view and review regulatory dossiers in eCTD, NeeS and other dossier formats from any region/country.
Many companies experience loss of time during the publishing process when sharing draft sequences for review: the published output has to be zipped, password protected, and is often shared via (slow) exchange portals. The sequences then have to be downloaded, unzipped and reviewed. After review is performed, all steps are repeated multiple times (for every review round!), resulting in loss of valuable time. Additionally, both authors and reviewers have to communicate on each step to verify the document status. Another time consuming process. A perfect example where RPA for Regulatory Affairs can ease the life of RA professionals.
Dossplorer Xcange bot eliminates manual steps in the exchange of regulatory dossiers
With Dossplorer and the Dossplorer Xchange Bot, almost all manual exchange steps are eliminated through RPA. The review of regulatory dossiers can be done through Dossplorer with an extensive comment function, making communicating outside of the application unnecessary. Manual import of dossiers and sequences is eliminated with the automated import function, and the Dossplorer Xchange Bot takes over manual steps in sharing dossiers and sequences between the authors and reviewers.
As a member of the publishing team, you only have to copy the published sequence or dossier to a sFTP site. From that moment, the Dossplorer Xchange Bot does the work: it unzips and copies the new sequence to the correct location in the dossier repository where Dossplorer's automatic importer will discover the new sequence. After the import is completed, a notification is sent to a (configurable) distribution list.
Dossplorer is accessible via the web browser, allowing for review at any time and any place. Feedback can be given within Dossplorer, links to exact locations can be shared. If re‑publishing is needed, the only thing the publishing team needs to do is to copy the (re‑)published sequence to the sFTP. As a result, Dossplorer will discover the new version of the same sequence and will replace the existing.
Security and Quality Assurance
Transfer is using secure file transfer protocol (sFTP) and to enhance security even more, the Dossplorer Xchange Bot can handle password protected zip files as well.
Everything described related to the Dossplorer Xchange Bot, the automatic import, and the comment function in Dossplorer is validated through Operational-, and Performance Qualification testing, through user stories, acceptance criteria, validation scripts, test results and validation evaluation.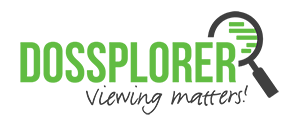 "Unlock and explore the true value of your regulatory dossiers in a safe and secure, web-based eCTD viewer"
More information about Dossplorer eCTD viewer?